FEATURED OFFER
Whisk yourselves away for a luxury holiday in our stone cottage, which is a recently converted barn, and enjoy the very warm indoor pool, heated year round, and the beautiful outdoor swimming pool, h...
MID-WEEK BREAK
Little Canwood House is a self catering holiday cottage situated in heart of rolling countryside offering beautiful views over the rural farmland of Herefordshire.It is the Gold Award winner for excep...
Advertise your holiday cottage rentals here.
Self catering with tennis and outdoor activities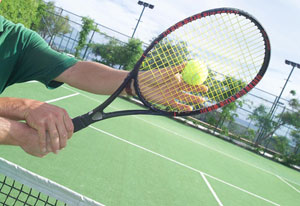 For people who play tennis it is rather nice to have the opportunity to play during their holiday. There is plenty of choice available and we feature an excellent range of cottages with tennis courts.

Whether you are an expert tennis player or just enjoy a fun game, there is something for everyone. Most courts at cottages are outdoor courts, indoor courts are usually shared facilities at cottage complexes. Whether you enjoy playing singles or doubles, have your own special, lucky racket or are happy to use those available at the cottage, having the facility to play tennis on holiday can be just a ball.

The following holiday cottages, villas and apartments all have the use of a tennis court for games with family and friends during your self catering break.
Whether you are happy to book a cottage with a shared tennis court or a cottage with a private tennis court, enjoy browsing through the excellent selection on offer.
Cottages in your chosen area



(click image to see more)



01278 652216,
Click here to email about cottage holiday







(click image to see more)



01490 412367,07835740397
Click here to email about cottage holiday







(click image to see more)



0191 2811900,07793 152 802
Click here to email about cottage holiday







(click image to see more)



07889 409050,07802 226039
Click here to email about cottage holiday







(click image to see more)



01892 0854030,
Click here to email about cottage holiday







(click image to see more)



01764652586,
Click here to email about cottage holiday







(click image to see more)



01243 544478,0777 333 1108
Click here to email about cottage holiday







(click image to see more)



01458 274 767,
Click here to email about cottage holiday







(click image to see more)



01747 841 396,
Click here to email about cottage holiday







(click image to see more)



01206 262261,
Click here to email about cottage holiday







(click image to see more)



07989 305023,07989 305023
Click here to email about cottage holiday







(click image to see more)



0845 6805431,
Click here to email about cottage holiday







(click image to see more)



01884 820296,078 555 82 374
Click here to email about cottage holiday







(click image to see more)



01995 600918,07791 974314
Click here to email about cottage holiday







(click image to see more)



07966583935,07966583935
Click here to email about cottage holiday







(click image to see more)



01398 361430,
Click here to email about cottage holiday







(click image to see more)



01892 532328, 07889 993870
Click here to email about cottage holiday







(click image to see more)



01629 732428,
Click here to email about cottage holiday







(click image to see more)



01594 832052,07768 893 927
Click here to email about cottage holiday







(click image to see more)



01206 393718 / 01206 395606,07791731161
Click here to email about cottage holiday







(click image to see more)



01242 673119,07753729787
Click here to email about cottage holiday







(click image to see more)



01244 500 540,
Click here to email about cottage holiday







(click image to see more)



016655 78 263,
Click here to email about cottage holiday







(click image to see more)



01787 211 115,
Click here to email about cottage holiday







(click image to see more)



01244 500 540,
Click here to email about cottage holiday







(click image to see more)



07941326120,
Click here to email about cottage holiday







(click image to see more)



01287 660742,
Click here to email about cottage holiday







(click image to see more)



01278 652216,
Click here to email about cottage holiday







(click image to see more)



01608 658278,0771 729 6993
Click here to email about cottage holiday







(click image to see more)



01805 603305,
Click here to email about cottage holiday







(click image to see more)



01643 841123,
Click here to email about cottage holiday







(click image to see more)



01787 247235,
Click here to email about cottage holiday







(click image to see more)



01278 652216,
Click here to email about cottage holiday







(click image to see more)



01892-724875,07793006711
Click here to email about cottage holiday







(click image to see more)



01692 538 224,
Click here to email about cottage holiday







(click image to see more)



01244 500 540,
Click here to email about cottage holiday







(click image to see more)



01278 652216,
Click here to email about cottage holiday







(click image to see more)



01206 392166,07775 604281
Click here to email about cottage holiday







(click image to see more)



07971 573367,07971 573367
Click here to email about cottage holiday







(click image to see more)



01758 612 536,
Click here to email about cottage holiday







(click image to see more)



,07719404636
Click here to email about cottage holiday







(click image to see more)



01548821751,07585320693
Click here to email about cottage holiday







(click image to see more)



01761 232 771,07850 354597
Click here to email about cottage holiday







(click image to see more)



01665 589 700,
Click here to email about cottage holiday







(click image to see more)



01298 871737,07981 330548
Click here to email about cottage holiday







(click image to see more)



0117 9625370, 07831 872 363, 07768880640
Click here to email about cottage holiday







(click image to see more)



01787 247235,
Click here to email about cottage holiday







(click image to see more)



,07855 488058
Click here to email about cottage holiday







(click image to see more)



01727 869619,07763399654
Click here to email about cottage holiday







(click image to see more)



01291 672071,07725 314944
Click here to email about cottage holiday







(click image to see more)



01629 732428,
Click here to email about cottage holiday







(click image to see more)



01438871130,07968793189
Click here to email about cottage holiday







(click image to see more)



01293 527 759, 0772 0753 667
Click here to email about cottage holiday







(click image to see more)



01787 211 115,
Click here to email about cottage holiday







(click image to see more)



01288 362000,
Click here to email about cottage holiday







(click image to see more)



07967 048255,07967 048255
Click here to email about cottage holiday







(click image to see more)



01458 274 767,
Click here to email about cottage holiday







(click image to see more)



01525 220957,07867 566420
Click here to email about cottage holiday







(click image to see more)



01451 798129,07730353933
Click here to email about cottage holiday







(click image to see more)



01398 361430,
Click here to email about cottage holiday







(click image to see more)



,07719404636
Click here to email about cottage holiday







(click image to see more)



01278 652216,
Click here to email about cottage holiday







(click image to see more)



01665 575591,
Click here to email about cottage holiday







(click image to see more)



01747 820563,Email via website
Click here to email about cottage holiday







(click image to see more)



01995 600918,07791 974314
Click here to email about cottage holiday







(click image to see more)



01271377237,07795957508
Click here to email about cottage holiday







(click image to see more)



08448082164,
Click here to email about cottage holiday







(click image to see more)



01225 436 230 ,
Click here to email about cottage holiday







(click image to see more)



01803 732170,07710 770290
Click here to email about cottage holiday







(click image to see more)



01244 500 540,
Click here to email about cottage holiday







(click image to see more)



01995 600918,07791 974314
Click here to email about cottage holiday







(click image to see more)



01335 342 670,
Click here to email about cottage holiday







(click image to see more)



01451 798129,07730353933
Click here to email about cottage holiday







(click image to see more)

Pool Grange
Location:
Wales / Powys / Pool Quay
Sleeps:
From 1 to 12
Number of bedrooms:
6
Weekly price:
From 1195 GBP to 1995 GBP
Quality Rating:
unrated
Facilities: Dog friendly (2 dogs welcome), Tennis court, Free internet access



01691 611 015,
Click here to email about cottage holiday







(click image to see more)



01291 672071,07725 314944
Click here to email about cottage holiday







(click image to see more)



01305 848220,
Click here to email about cottage holiday







(click image to see more)



01386 725351,
Click here to email about cottage holiday







(click image to see more)



01458 274 767,
Click here to email about cottage holiday







(click image to see more)



01244 500 540,
Click here to email about cottage holiday







(click image to see more)



01887 820260,
Click here to email about cottage holiday







(click image to see more)



01278 661076,07809562965
Click here to email about cottage holiday







(click image to see more)



07768 060593,
Click here to email about cottage holiday







(click image to see more)



01562777533,07976573306
Click here to email about cottage holiday







(click image to see more)



01244 500 540,
Click here to email about cottage holiday







(click image to see more)



01785 284177,07967 818728
Click here to email about cottage holiday







(click image to see more)



01288361494,07813594056
Click here to email about cottage holiday







(click image to see more)



01278 652216,
Click here to email about cottage holiday







(click image to see more)



01288361494,07813594056
Click here to email about cottage holiday







(click image to see more)



01244 500 540,
Click here to email about cottage holiday







(click image to see more)



01328 823135,
Click here to email about cottage holiday







(click image to see more)



01237 475118,07967670229
Click here to email about cottage holiday







(click image to see more)



01503-262730,07725 489979
Click here to email about cottage holiday







(click image to see more)



01458 274 767,
Click here to email about cottage holiday







(click image to see more)



+44 (0)1670 780 900,
Click here to email about cottage holiday







(click image to see more)



01761 232 771,
Click here to email about cottage holiday







(click image to see more)



(++44 / 0) 1503 220333,
Click here to email about cottage holiday







(click image to see more)



01458 274 767,
Click here to email about cottage holiday







(click image to see more)

West Pitt Farm
Location:
England / Devon / Tiverton
Sleeps:
From 2 to 18
Number of bedrooms:
7
Weekly price:
From 290 GBP to 1850 GBP
Quality Rating:
4 star
Facilities: Dog friendly (2 dogs welcome), Own pool, Tennis court, Free internet access



01884 820296,078 555 82 374
Click here to email about cottage holiday







(click image to see more)



01244 500 540,
Click here to email about cottage holiday







(click image to see more)



01451 798129,07730353933
Click here to email about cottage holiday




1
2
next >>
Country Cottages Online.Net includes UK self catering and self catering overseas and is a trading name of XE Website Solutions Ltd.
Company registered office is: 17 Fennfields Rd, South Woodham, Essex, CM3 5RZ.
Our company registration number is: 3991504 and our VAT registration number: is 104 353357

copyright © 2010 countrycottagesonline.net - ALL RIGHTS RESERVED