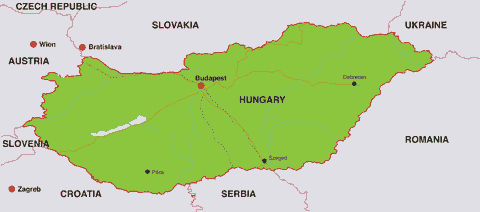 Hungary, shares its borders with several eastern European countries: Austria and Slovenia to the west, Romania to the east, Croatia and Serbia to the south, Slovakia and the Ukraine to the north.
The capital, Budapest, stands on the banks of the River Danube. It's becoming one of Europe's most visited short breaks destinations. There is a lot to see within a small area: Royal Castle and cathedral, Parliament, Jewish quarter and Jewish Museum, ancient buildings dating back to the Romans plus an incredible amount of Art Nouveau inspired architecture, boat trips on the Danube, excellent shopping, entertainment and culture.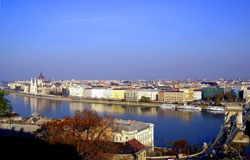 Part of Budapest, the section between Margaret Island in the Danube all the way to Gellért Hill and the Castle District is a designated UNESCO Heritage Preservation Site. The Castle hill encompasses the the Royal Palace and seat of Hungarian kings where today there are museums of Hungary's history and the national gallery.
Budapest is a spa town; there are around a 100 thermal springs within its boundaries, originally discovered by the Romans but still benefiting visitors. If you're interested in the Romans, also visit the excavated ruins of the Roman city of Óbuda with its ampitheatre, mosaic decorated Roman villas, baths and original plumbing.
Hungary is big on festivals; if you're a culture buff and enjoy opera, ballet or classical music then do head there for a wealth of festivals. Low-brow festivals with general appeal include a flower festival in August, a wine festival in October and plenty of folk music all year round.
Hungary is another of eastern Europe's unspoilt countries with glorious rural landscapes, friendly people and inexpensive holidays all year round.
Self-catering apartments, houses and accommodation in Budapest and Hungary: