Large Country Houses and Mansions to rent for your group gathering or special occasion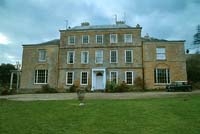 Large houses in the country are perfect to rent for those sociable events when you want to get a large group together around a single table or in the same house. A country location often means that the house stands in its own capacious grounds so that any noise your family and friends make will not unduly disturb any neighbours.
Large houses are popular for Christmas, New Year and family celebrations.
A big house, cottage or mansion provides the means, yet in a non-formal situation, where you are not disrupted by staff or other people outside of your own gathering, although catering and other services can be arranged on request.
Demand for this type of self catering accommodation is always high so plan and book early especially if you're booking for the festive season!
Click on the following links to find self-catering large country houses and mansions in England, southern and northern Ireland, Scotland and Wales. We hope you find the best property for you.
Additional large self catering house categories:
Large houses to rent abroad
Find all types of self-catering accommodation by using our search assistant including holiday cottages, country houses, apartments, cottage complexes, houseboats and wooden lodges.

Click on the cockerel at the top of the page to return to the Country Cottages home page and a greater choice of self-catering holiday accommodation..