/

Glamping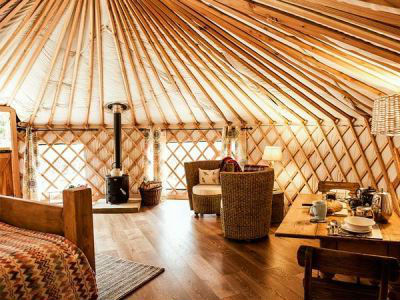 For a taste of glamping why not book a stay in a Yurt? For those who have never heard of yurts, a yurt is a large capacious tent stretched over a steel or wooden frame. Wood stoves are used for heat during cold weather and cooking is performed over a BBQ or fire pit.
Yurts and holiday tipis will be sited in attractive rural places where you can enjoy the views and country walks. Some have clear roofing so that you can lie under the stars at night.
This type of holiday experience may bring back fond memories of camping with greater comfort and even luxury on account of the comfortable 'proper' beds, even double beds in cases, and better facilities.
Communal gatherings and singsongs around the fire in the evenings are optional.
We have other eco-friendly self catering accommodation if a yurt experience sounds a little too exciting but sometimes it pays to be brave and try something new for a memorable 'out of the ordinary' holiday. Glamping holidays are really popular currently, it could be a great time to give it a try.