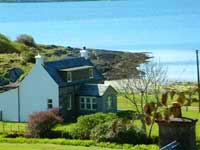 Searching for a remote holiday cottage where you can get away from it all?

Holiday cottage in remote destinations cannot always be guaranteed to be in isolated location but at all you should be able to find that peace and tranquility you are looking for and most will enjoy a secluded setting. If you are also interested in hidden-away properties that don't need to be too far away from everything then how about a stay in a secluded cottage?

Dreaming of a stay in a cottage hidden away in a forest, by the mountains or nestled in the countryside? Countrycottagesonline.net features a great choice of hideaways in out-of-the-way locations where you can get away from it all and enjoy being close to wilderness whether that be by meadowlands, fields or parklands. We can help you find remote cottages in England, Ireland, Scotland or Wales, Find your perfect hideaway and escape to a tranquil location in the UK where you can enjoy peace and tranquillity and leave the crowds far behind you.
Find your perfect remote retreat and enjoy a wonderful escape on your peaceful cottage break.