Eastern Europe is an up and coming destination for self catering holidays. Most of the countries in Eastern Europe offer good value for money for visitors from the UK and the Eurozone. The exception to the rule is of course Russia which bucks the trend. Moscow in particular is not a cheap holiday destination. Eastern European countries include Poland, Czech Republic, Lithuania, Belarus, Slovakia, Hungary, Romania, Bulgaria, Ukraine and Russia. There is no clear cut definition of Eastern Europe though and no standard list of Eastern European countries.
Prague, the Czech Republic's capital city is world famous for its beauty and heritage. In this amazing city you may feel like you have stepped back in time. The city benefits from an attractive position by the Vltava river. The majestic Prague castle has a lovely riverside location. Boat trips operate where you can enjoy sightseeing from the river. Taking a river tour does give you a different perspective to the experience of touring on foot. Prague's old town square is extremely beautiful and not to be missed. The glassware in Prague is world famous. Prague is likely to appeal to those thinking of a romantic self catering city break. As with many other Eastern European countries there are also a number of ski resorts in the Czech republic.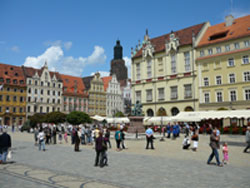 Poland's cities of Krakow, Wroclaw and Gdansk are attracting increasing numbers of visitors for city breaks. Some also visit the capital city of Warsaw which has an attractive historical quarter. During summer, some like to visit Poland's countryside for walking and hiking. For winter holidays Poland has ski holiday destinations such as Zakopane in the Tatras to offer. When in Poland don't forget to try the different flavours of vodka on offer. Honey vodka is a Polish speciality to be enjoyed in moderation.
Hungary's capital city of Budapest is famous for its beauty. Budapest has a reputation along with the likes of Paris and Prague as one of the choice romantic destinations in Europe. There are many different areas in Hungary to explore though and each offers something unique. Find out more about self catering holidays in Hungary.
Romania is on the up when it comes to holidays. Lots of Brits will be unfamiliar with what Romania has to offer but Romania is a country that may particularly appeal to families looking for a good value holiday. There are some excellent ski resorts in Romania along with opportunities to take part in other winter fun activities like riding on snowmobiles. The city of Brasov is an attractive city with plenty of bars and restaurants. Romania is also home to Transylvania – big fans of Dracula and castles take note!
Like Romania, Bulgaria is becoming increasingly popular for good value skiing holidays. The main ski resorts in Bulgaria are Bansko, Borovets, Chepelare and Pamporovo. If you are looking for a destination where your pound or Euro should go further then do consider Bulgaria and all that this country has to offer.

Russia
Russia is an amazing country with a fascinating history. The architecture of Russia is distinctive and noteworthy. When planning a trip to Russia do be aware that temperatures can plummet in winter. Temperatures in Moscow can drop as low as minus 30 degrees in Moscow and it can be even colder elsewhere. If you are dreaming of a self catering city break in Moscow it therefore pays to pick the time of year you visit carefully.