Holiday parks for self-catering cottages and apartments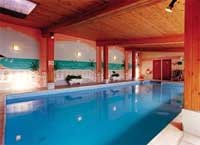 Holiday parks are designed specifically with self-catering holidays in mind. A collection of holiday cottages, log cabins or mix of accommodation is set in an attractive location with various leisure amenities. This my be a lake settings with cottages or pine lodges set around the lake, or in woodland. Usually there will be a swimming pool, childrens' playgrounds, tennis courts, walks and cycle paths, perhaps a nature trail, golf, hot tubs and saunas, a gym and other leisure amenities.
Holiday cottages, log cabins and other self-catering accommodation can be rented individually or as a block booking for a large group. Holiday parks lend themselves to clubs, walking groups and other groups of people wanting to holiday together for a joint purpose.
Holiday parks are found almost everywhere; in England, southern and northern Ireland, Scotland, Wales, France and other places abroad.
Find individual self-catering holiday cottages, large country houses, apartments, pine lodges, and apartments in holiday parks using the headings. The Cottage Search Assistant can also prove most useful if searching by occupancy and destination.