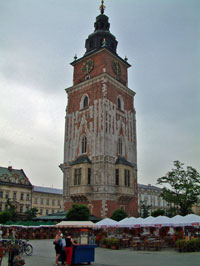 Visit Cracow, the old well-preserved capital of Poland with the Old Town with some of its original city walls, encircled by the new Cracow. Visitors to Cracow might wish to visit the following:
The Old Town square with the medieval cloth hall (now selling Polish arts and crafts), stunning church, museums and galleries, great restaurants and outdoor cafes and interesting shops. Sit out in a cafe in the Old Square and watch the world go by. In one corner of the square is a colourful flower market which is replaced by a Christmas market in December and January. Great organised and free New Year festivities are held here when the whole square is thronged with celebrating people.
Wawel Castle, museum and cathedral - seat and burial place of Polish kings and queens. Krok the fire breathing dragon stands guard by the Wisla River below the Castle. Take a ride in a horse-drawn carriage to appreciate the castle hill and views of Cracow.
Take a steam train (summer only) or ordinary train or bus to visit the salt mines 20 minutes south east of Cracow. Be amazed by the magnificent underground cathedral complete with chandeliers carved out of rock salt. The whole thing is carved with love.
Walk around the Jewish quarter of Kazimierz with remnants of the original Jewish residents. Discover synagogues, the factory featured in Schindler's List, Jewish symbols and kosher restaurants. The holocaust memorial of Auschwitz is an hour away to the west of Cracow.
Lots of other trips and tours available to explore Cracow and its attractions. Find self-catering accommodation for your base then tour Cracow and Poland to your hearts' content.
Self-catering accommodation near Cracow - for holidays and short breaks