Jamaica is the second largest island in the Caribbean after Cuba. Its capital, Kingston, is the largest English speaking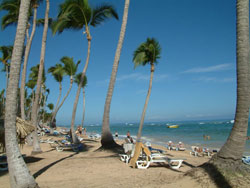 city in the Caribbean, and Kingston has the seventh largest natural harbour in the world.
Jamaica is big on many things: sunshine, warmth and friendliness, energy and entertainment. The food is hot and spicy, the pace can be so slow or super fast depending on what you prefer. There's plenty of nightlife and entertainment.
Rent self-catering accommodation in Jamaica
Visit Montego Bay, the second largest city in Jamaica for a lively holiday with great beaches, good shopping, a bustling crafts market, and plenty of clubs and visitor attractions.
For a quieter location, go to Negril with its 7 mile long sandy beach. The most exciting thing to do here is to climb the hundred or so steps to the top of the lighthouse for the fabulous views. There are many other beautiful beaches, especially on the south coast. The nature of the beaches varies from long stretches of sand, sheltered bays and harbours, to the more extreme, such as Treasure Beach which ends in 1,000ft dramatic sheer cliffs.
Rainforest with rivers and sparkling hidden waterfalls await the intrepid traveller willing to brave the interior of the island. There are various escorted tours for a safe experience.
Self-catering accommodation in Jamaica: