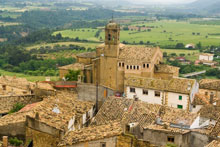 Breathtaking mountain scenery, fascinating architecture and unrivalled outdoor activities, Aragon, a wine producing region of north east Spain, is just waiting to be discovered.
The Aragon Pyrenees are characterised by rugged mountain terrain. The snow-capped peaks provide excellent skiing in the winter. Candanchu and Formigal are well-equipped winter sport resorts. In the summertime, the spectacular vistas and mountain solitude provide a peaceful environment for hiking. The vast Ordesa and Monte National Park is blessed with glacial valleys and rare wildlife.
The regional capital of Zaragoza is set on the banks of the River Ebro. Here you can discover the real Spain, far away from the crowds on the Costas. Many cultures have added their own distinct flavour to Zaragoza creating a heady mix of architectural styles. The Moors built the imposing Aljaferia Castle and the romantic La Zuda Tower. The Romans left behind baths and a theatre. The Museum of Zaragoza is an excellent place to start learning about the history of the city and to see some of the area's art treasures. King Henry the VIIIs wife, Catherine of Aragon came from this part of Spain.
Much of Aragon's wonderful scenery is protected with national park status. The mountain landscape offers excellent opportunities for outdoor activities and adventure sports such as caving, climbing and mountain biking. Thrill seekers can try canyoning or hang gliding. There are a number of trails suitable for hikers and horse riding and you may even catch a glimpse of an ibex, a kind of rare mountain goat.
Food in Aragon is hearty full-flavoured meat stews, thickened with pulses, popular in many villages. For dessert, try some delicious pastel ruso, a traditional Aragon cake flavoured with almonds.
September is the month for bull fighting and running bulls through the village streets.
Places to visit in Aragon:
Calatayud - a former Roman town with later Moorish influences
Albarracin - a well preserved Moorish town with steep cobbled streets, 28 km north west of Teruel
Huesca, northern province with wonderful landscapes at the foot of the Pyrenees Mountains
Self-catering holiday cottages and apartments to rent in Aragon: