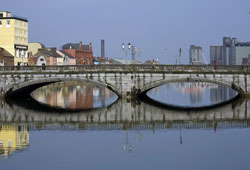 Spend a few days in Cork city seeing the sights, visiting Cobh and the other islands in Cork Harbour. A lot of people rate a city break in Cork higher than Dublin.
The city offers some excellent visitor attractions, culture, history, shopping, dining and nightlife, boat trips and more.
Any accommodation to rent in Cork city or within a radius of 20 miles can be seen on the map. The nearest alternative cottages and apartments can be viewed by clicking on the markers on the map.