Canary Islands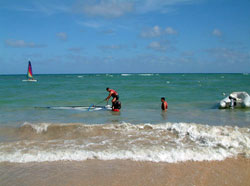 Dramatic volcanic landscapes, year round sunshine and fabulous outdoor activities. Lanzarote, Gran Canaria, Tenerife, Fuerteventura, La Palma, El Hierro and La Gomera: each has something different to offer.
There is plenty to do in Lanzarote. The island attracts tourists all year round due to the mild winter temperatures. Most visitors stick to the lively beach resorts, but if you can tear yourself away from the coast there is a lot to discover.
The grandeur of Lanzarote's volcanic landscape can be seen at the longest volcanic tunnel in the world, the Atlantida Tunnel. In the winter, hiking is an excellent way to explore this unique landscape. For family fun, take the kids to the Rancho Texas Theme Park. Sailing and golf are popular outdoor activities.
Gran Canaria offers great variety. Come to the south of the island for lively beach resorts buzzing with water sports, shopping and nightlife or choose a sleepy traditional village for more tranquil enjoyment. By day the main town, Las Palmas, is the place to come for the archaeological museums and to admire the beauty of the cathedral and charming squares. At night the city comes alive to the sound of the many bars and restaurants.
Tenerife is known for beach resorts and non-stop activity: Water parks, go-karting, jeep safari, horse riding, water sports, scuba diving, parasailing and golf. If you still have the energy there is shopping and crazy all night partying at the many bars and nightclubs. Take a trip to Mt. Teide, Spain's highest mountain, in the Las Canadas Natural Park to appreciate the natural beauty of Tenerife.
Fuerteventura is covered with glittering white sand. Come for the lovely beaches. For a day out, visit the Tindaya volcano or try scuba diving on Lobos Island.
La Palma offers a complete contrast from the other Canary Islands. The island is green with dense forests, rich in flora and fauna. The main town of Santa Cruz is delightfully set next to the sea.
La Gomera is ideal for hiking through the lush forests of the Garajonay National Park and El Hierro is known for excellent scuba diving.