Cape Town, South Africa

Cape Town

Cape Town and Table Mountain in South Africa, next to Rio de Janeiro and Sugar Loaf Mountain in Brazil, has to be one of the most recognisable and iconic cities in the world by virtue of its magnificent mountain scenery and fantastic location.
Cape Town is ideally situated, nestled between Table Mountain and the Twelve Apostles and the coast. This fantastic location makes for magnificent scenery from various locations in the city.
Getting around Cape Town

Taxis are affordable but by no means cheap and public transport is pretty much non existent in Cape Town. The best way to see the city is to take a taxi to a location such as Table Mountain where you can get the hop on- hop off, Red City bus sightseeing tour which will take you to the major points of interest in Cape Town. There is also a Blue Mini Peninsula tour.
Places to go and things to do
Once you've sorted your bus sightseeing tour, you can get about Cape Town relatively easily.
Perhaps one of the prettiest locations in Cape Town to visit with good views of Table Mountain is the Victoria and Albert Waterfront.
There are plenty restaurants and bars and shopping opportunities at the Victoria and Albert Waterfront. It is perfect for relaxing and enjoying a meal or glass of wine and admiring the view. Shopping though tends to be on the pricey side here and if you are travelling outside Cape Town you may want to leave it until later on in your journey to pick up souvenirs which are generally cheaper outside Cape Town. There is an interesting craft market which although not cheap, does have some interesting items that you may not find easily elsewhere.
Probably the prettiest location in Cape Town has to be Camps Bay. Camps Bay can be reached via the open top Red city bus tour and is well worth a visit. The beach is beautiful and there is a line of trendy bars and restaurants, set against the magnificent scenery of the Twelve Apostles. It is a perfect spot for chilling out and enjoying the view.

Camps Bay
A little further south down the coast is Hout Bay - another popular coastal town with a wide gently shelving sandy beach, picturesque fishing harbour and superb fish restaurants.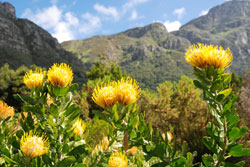 The Kirstenbosch Botanical Garden is a feast for the eyes and joy to explore. It displays South Africa's indigenous plants along the slopes of Table Mountain.
Any trip to Cape Town would of course not be complete without a trip up iconic Table Mountain. The incline is steep, so the majority of visitors will take the cable car - which is made more interesting due to the rotating floor (which is aimed at ensuring everyone gets an equal chance at a good view).
The ticket office at Table Mountain usually has notices up when the weather is cloudy and some locals may advise you not to take the trip up unless you have a clear day. However, Table Mountain shrouded in cloud even is still magnificent. The cloud invariably clears bit by bit or shifts around, giving you glimpses of Cape Town down below. In some ways having this cloudy view unveiling the sights beneath is more interesting than the clear view you may get on a completely clear day.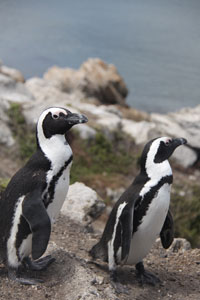 Once up on Table Mountain, the views are fantastic and there is plenty of wildlife such as birds, rock rabbits and lizards and the zing from the numerous grasshoppers is amazing. Care though should be taken to keep to the marked paths and children should be closely supervised. There are no barriers and there are sheer drops at certain points.
Eating out in Cape Town and throughout South Africa is generally very good and there are numerous good restaurants in Cape Town with most restaurants being more hit than miss. Steak restaurants in general are a good bet with the steak in South Africa being generally excellent. The wine of course is also generally good.
If you are interested in the history of South Africa, you may want to visit Robben Island http://www.robben-island.org.za/
Tickets can be booked in advance. The boat trip is quite an adventure in itself if there are any waves but the tours do tend to herd visitors around so by the end of your visit you may yourself end up feeling a bit like a prisoner.
Click on the following page for good quality holiday accommodation in and around Cape Town: