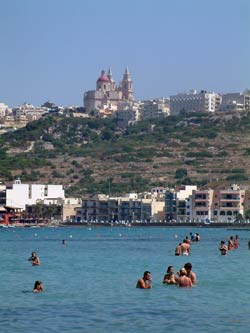 Find holiday accommodation in wonderful Malta for a relaxing holiday on an island that is the equivalent of Britain in the sun.
Malta is a popular destination in the Mediterranean for British people. We ave a shared history and culture that goes back to the 15th century. Visitors to Malta find that they are warmly welcomed, the locals all speak English (in fact everything is in English), there are red phone boxes, bakers selling traditional English cakes and 'Pukka pies' should you ever want one.
The landscape and scenery are typically Mediterranean with plenty of prickly pear, purple flowering thyme and wild dill. Bright yellow buses ferry people around the island at insanely low prices. It's a small island with lots of places of interest that you can easily tour in a couple of weeks and still have time to laze on the beach.
There are lively areas for the young who need nightlife and a party atmosphere to quiet secluded places for a tranquil self catering holiday.
Click on any holiday accommodation shown below to book that magical holiday in the sun.
Related Malta holiday accommodation pages: