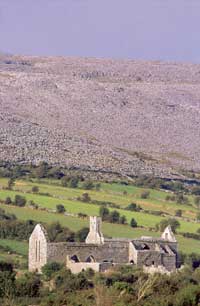 Book a holiday cottage in County Clare, in the country or one the coast, for a few days or real relaxation. A holiday home to call your own is the first step in helping you unwind. Close the front door on the world and no one will disturb your peace. Spend your holiday doing the things that give you pleasure in County Clare. It could be reading in the garden, visiting the tourist attractions or chatting down at the pub in the evening. Irish people always have time to talk and welcome holidaymakers because they can then return home and recount the tale to their family.
County Clare on the west of Ireland is especially scenic, so if you get all excited by great views, and cannot wait to get that camera snapping, this part of Ireland is guaranteed to enthrall. You may be able to find a holiday home that has superb sea views.
The 700 foot high Cliffs of Moher are sure to impress. Don't go if you suffer from vertigo – you'll find them terrifying, but for everyone else, the view from the top of the Atlantic Ocean pounding away at the rock beneath your feet, is simply amazing.
Clare is also home to the much loved ruins of 15 th century Quin Abbey with its bloody history on the Limerick to Galway route, and the essential, but less loved, Shannon Airport where you're likely to arrive. It should take under an hour to reach your self-catering cottage in County Clare if you arrive by plane. The most distant remote points such as Loop Head are only an hour and a half's journey away.
If you're into fishing; head to the east of Clare where you will find a host of small lakes, with fish just waiting to be caught.
Do pay a visit to the county town of Ennis and wander the narrow winding streets in search of real Irish food, drink and experiences. The brave may want to watch some hurling or Gaelic football, or perhaps soak in Irish history and culture in the castle, cathedral and museum. But if you would prefer to just eat, drink and be merry, there is an excellent selection of pubs and restaurants for your own personal itinerary, whether it be pub crawl or gourmet extravaganza. There is sure to be a holiday home to rent within a short walk of a pub in County Clare.
Holiday cottages and self-catering accommodation in County Clare, Ireland: