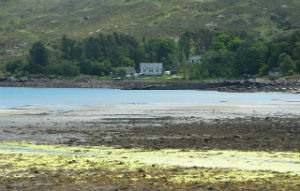 Looking to escape to Scotland's unspoilt wilderness on a remote cottage holiday? Countrycottagesonline.net can help you escape from it all with a holiday in the wilds of Scotland.
Discover remote and isolated areas of Scotland with tranquil moorlands, glens, mountains, hills and lochs. Walk along beaches all alone far from crowds and discover unspoilt destinations far from the beaten track. Hidden away holiday destinations in Scotland include the Highlands which are known for being sparsely populated and offering ample opportunities for tranquil hideaways. The Scottish islands like the Inner Hebrides, the Outer Hebrides, the Western Isles, the Isle of Skye, Orkney and the Shetland are particularly remote and can only usually be reached by boat or plane. If you are looking for a secluded cottage in Scotland or a cottage hidden away in the countryside, it is advisable to always check exact location details before booking.

When it comes to a Scottish self catering holiday in an out-of-the-way destination you may have luck when it comes to wildlife watching as many more remote areas are the domain of wildlife rather than humans. Remote breaks can be appealing for truly getting away from it all and getting close to nature.

Click on photos to find out more about the remote self catering holiday options in Scotland listed below.