Holiday cottages near seaside resorts in Yorkshire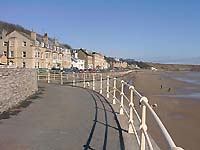 Come and dig up the Yorkshire beaches. Bring the children armed with buckets and spades to help. It takes very little to give children a really good beach holiday in Yorkshire. Stay in a holiday cottage or self-catering apartment so that you plenty of space, a TV and things to do inside in case it rains.
There are a good number of very good sandy beaches on the Yorkshire coast, The big lively seaside town of Scarborough provides all the fun of the fair and enough fish and chips to keep eberyone well fed. There are also smaller well-loved resorts such as Whitby and a few lesser known ones that allow dogs on the beach and may suit families who like to stay in self-catering accommodation because the dog is also allowed to come.
Holiday cottages near the Yorkshire coast and beaches

Country Cottages home page via the cockerel.