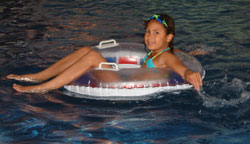 A swimming pool attached to your holiday cottage, gite, house or mansion in France adds another dimension of pleasure. It's healthy and easy entertainment for the children and a convenient method of relaxation.
The following French self-catering properties all have their own or a shared swimming pool for extra fun.
Please click on cottage photographs to read about each cottage, or gite in France, in more detail.
Self-catering holiday cottages, gites, houses and mansions in France with a swimming pool: