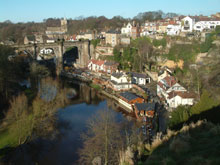 Take a look at these holiday cottages in Knaresborough, Yorkshire, for self-catering holidays in north Yorkshire and the Dales. Knaresborough is a lovely place to stay with plenty of places to visit, great walks, shops, pubs, tea shops and everything that tourists could possibly want on holiday.
Row boats on the river, visit Mother Shipton's Cave and much more.
Click on the holiday cottages shown to read about the self-catering accommodation on offer. Perhaps combine your vsiit with walks in the Yorkshire Dales?
Book directly with cottage owners for the very best prices.