Paris has to be one of the most romantic holiday destinations in the world. Whether it is the architecture, the tree lined streets, the art, the food, the chic French or a combination of all these factors is for you to decide. One thing is for sure, Paris is a memorable destination for a self catering break.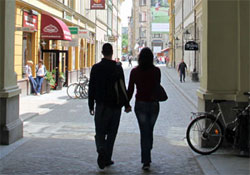 Paris has so very many highlights. With so many jewels in its crown, Paris should have some place or sight to mesmerise or dazzle you. Picture the view from the top of the Eiffel tower on a hot summer day or the sight of the Eiffel tower lit up like a Christmas tree on a winter's night. Or visualise enjoying drinks outside a Parisian bar on a warm summers evening or walking hand in hand with the one you love during winter on a street where the trees are illuminated with Christmas lights. You can create so many magical memories in Paris. If you want to inject a bit of romance back in to your life then there can be few places as captivating as Paris.

And then there is the food and wine. With so many fine restaurants in Paris and plenty of stylish bars, there are so many chic places to while away the time in Paris. Paris with its reputation for high end fashion and style has to be one of the best places in the world for a spot of people watching.

There are so many amazing things to see and so many choices when it comes on what to do in Paris. The most famous attractions in this city though include:
The Eiffel Tower
The Eiffel tower has a well earned reputation as the place to see Paris. At the top you reach a height of over 1000 feet and can enjoy splendid views of miles and miles of this amazing city. If your budget allows why not enjoy a meal in the restaurant, high up in the Eiffel tower?
Notre Dame
The Notre Dame de Paris is possible France's most famous Cathedral. Many are bowled over by the gothic architecture and climb to the top to see the bells and enjoy views of Paris down below.
The Sacre Coeur
The Sacre Coeur enjoys a wonderful position high up on a hill in Montmartre. This church dates back to the late 1800s and attracts a good number of visitors. The views from the Sacre Coeur of Paris are pretty amazing.
The Louvre
Paris' Louvre museum is world famous. This museum has featured in both movies and books. The Louvre is a huge and amazing museum. Perhaps most famously the Louvre houses the Mona Lisa, it's for you to decide whether or not she is smiling.

Paris is an excellent city to visit if you are looking for somewhere with amazing sights, good food and good wine. As a major capital city there are also plenty of shopping opportunities in Paris. France's capital city, Paris is an amazing place. There can be few destinations in the world that compare to Paris for self catering city breaks.