Guide to Self Catering Holidays in Scotland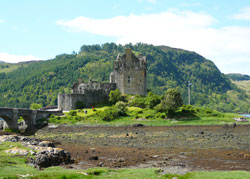 Scotland is a country that in our view is well worth the trek for self catering holidays. This guide aims to set out the highlights of Scotland and to inspire you to visit this magnificent country. Many would agree that Scotland deserves the title of 'Bonny Scotland'. The rural parts of Scotland are particularly suited for remote and peaceful self catering holidays. In comparison to its neighbour, England, Scotland is a sparsely populated country. Outside of the cities you can find peaceful places to holiday in Scotland and some absolutely stunning awe inspiring landscapes.

With an abundance of untamed countryside, lochs and mountains there is much to recommend Scotland for special self catering holidays. And let's not forget Scotland's castles and rich heritage which should help enrich any cottage holiday in Scotland. Many find a visit to Scotland a spiritual experience with exposure to rugged wild beauty and if you travel to the right places, lots of peace and quiet. And if you aren't usually the most spiritual of people may be a wee dram of whisky will help the process along.



Self catering accommodation in Scotland varies but can include:

In Scotland you can find mountain walks, lochside walks and enjoy walks through the glens. Scotland can be an attractive option for walking holidays. Along with this stunning natural beauty, watch out for fascinating wildlife including wild cats, eagles and stags. The Scottish islands such as the Inner and Outer Hebrides, Orkney and Shetland are known for good whale watching opportunities in season. For a holiday where you can reconnect with and get back to nature, Scotland is hard to surpass.
The people in Scotland are also known as a friendly bunch, although equally with some they have a reputation of indulging in one too many whiskies...Characters such as Rab C Nesbitt ape up these stereotypes with good humour, another thing the Scots are known for!

Scotland can be particularly attractive for peaceful self catering breaks but some people do like to visit the capital city of Edinburgh, which is a city known for its architecture and its heritage. If you are after interesting culture, an imposing historical castle and a good choice of bars, restaurants and shops then Edinburgh is well worth a visit for a short break. Edinburgh is indeed a beautiful city and one of the jewels of Scotland.

For remote and peaceful breaks, it is hard to find more peaceful places than the sparsely populated Scottish isles. Particularly sparsely populated options include the islands of the Inner and Outer Hebrides, Shetland and Orkney. It may be a trek to get these islands but on arrival you should be rewarded with opportunities for tranquillity galore. With peace and quiet you also tend to get ample wildlife watching opportunities, so if you simply adore nature, then you may wish to make the journey to these remote islands.

The Highlands of Scotland are also known for their rugged natural beauty, peace and tranquillity. A number of places within the Highlands though are world famous and on the tourist trail. On the flip side though, there are some amazing glens, castles and lochs in the Highlands of Scotland. The Isle of Skye is not far from the Highlands and is a fascinating place to visit. If you adore boating then Argyll and Bute is an area that may be calling to you, this part of Scotland is known for its idyllic coastline and many parts can be visited by boat. If you love water then Loch Lomond can also be an attractive option. Not too far from Edinburgh or Glasgow, Loch Lomond is a beautiful place to spend time.

Scotland has a magnificent varied coastline which varies from the inlets of Argyll and Bute to the steep cliffs and sandy beaches of Aberdeenshire.

Wherever you choose to visit in Scotland, each area offers something special to offer for a self catering holiday.