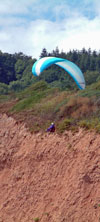 For thrill seekers, different methods of falling through the air are the ultimate challenge. If hang gliding is one of your sports, then do take a look at the self-catering accommodation near hang gliding locations where there is a hill, ridge or cliff.
Clicking on the accommodation photographs shown will display full details of each self-catering cottage, house or pine lodge. Deal with owners directly for best prices.
And good luck. For the rest of us watching you glide through the air is excitement enough.
---