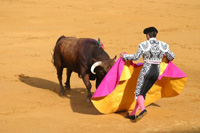 Bullfighting, fiestas and tapas, the Basque Country fills the senses. In contrast, the city of Bilbao is a heady fusion of modern architecture and historical tradition. Out in the countryside discover mysterious caves, decorated with prehistoric art and lonely towers watching over the ancient mountain ranges.
Bilbao has been transformed in recent years from a sleepy Spanish backwater into a major European art destination. The Guggenheim Museum is an icon of modern architecture with a curved metal façade, which perfectly complements its riverside setting. Immerse yourself in Spanish culture at the Bullfighting Museum or take a trip down to the Bilbao River Maritime Museum to see how boats have been made here for centuries. On the 3rd of February, the streets throng to the sounds of the San Blas Procession. See street sellers with their trays of brightly coloured sacred cords or buy a freshly made traditional doughnut as the crowds make their way to be blessed by the saint.
11,000 years ago, cave men lived on this land. See how their art has been miraculously preserved in the Santimamine Caves where the walls are decorated with primitive images of prehistoric animals. For a hint of medieval romance, visit the Castillo Butron. Built in the 13th century, the castle now houses a multi-media tour and is surrounded by delightful forests and gardens.
For breathtaking mountain views, take a trip to the Nature Reserve of Urkiola. A Baroque tower overlooks the lofty peaks. The Basque countryside offers the adventurer opportunities for outdoor activities such as hiking, canoeing, hang gliding and golf.
Finally, feel the rhythm of the Drum Procession in San Sebastian every January. Scores of drum bands take to the streets in this lively fiesta accompanied by religious chanting and stalls selling tasty Basque food. Book and relish a different type of Spanish holiday in the Basque region.
Self-catering holiday cottages and apartments to rent in the Basque Country: