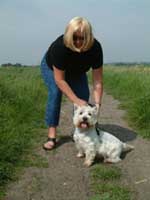 Pet-friendly self-catering holidays in cottages and log cabins in Scotland with your dog.
Please click on any images shown to view details of the self-catering holidays in Scotland where your dog can accompany you. Fine secluded cottages, apartments, houses and chalets near beaches or open countryside with lots of opportunities for walks.
Alternatively, please use the Cottage Search to discover more pet-friendly self-catering holidays where your dog will be made most welcome.
The red tabs on the map below indicate locations of pet friendly cottage accommodation in Scotland.