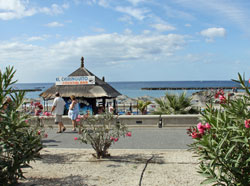 A favourite holiday fun-filled destination for lots of people, the Canary Islands with their year long sunny climate are brilliant for a week or two on the beach, walking in the volcanic national parks, whale and dolphin spotting and a wide range of water sports. Mountain biking is very popular in the Canaries despite the hills inland.
The coastal beach resorts have everything that anyone could want on holiday - tapas bars, clubs, restaurants, water parks, animal parks, trips and safaris. The scenery is fantastic, food good, the weather reliably sunny. Book an apartment for 4 people in the Canary Islands and have a good time.
Apartments often have a swimming pool, their own balconies where you can survey your surroundings or sunbathe in peace and are fully set up for self-catering. Most apartments will be equipped with a washing machine and all should have a fridge freezer. Some have dishwashers, some don't - it's a case of checking to see if they have what you need.