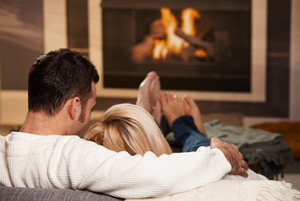 Find a self-catering holiday cottage with an open fire or log burner to rent for warm nights in, curled up in front of the fire. Real fires can help heat you up on the cold nights of winter and can add a warm cosy atmosphere all year round. Some love to watch the flames flicker when staying in a cottage with a real log fire whereas others like to warm their hands or feet by the warmth of the fire.

Cottages with real log fires, woodburners or open fires are also a top choice with romantic couples.

Some cottages provide a starter kit with kindling and logs whereas others may charge. Choose the best cottage for you from our excellent collection of cottages with open fires where you can watch the logs burn and crackle. We hope you find your ideal holiday cottage with an open fire.