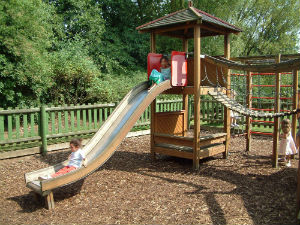 Book a holiday cottage with an outdoor play area for children and keep the kids entertained on a fun-filled break away. Be rewarded with the sight of your children's faces lighting up when they see the swings or slide! Kids love to get out in the fresh air and climb up climbing frames or play on a see-saw and parents love to watch them. Activities also help your kids to run off steam which can lead to happy kids and happy parents. Our selection of family-friendly cottages all feature some kind of outdoor play area such as a swing(s), slide(s) or a trampoline for children to enjoy on holiday.
Some holiday cottages will have access to shared outdoor play areas or facilities whereas others will feature private play facilities. Some cottages even have access to indoor play facilities such as soft play areas for toddlers and tots. See individual listings for more information on the child-friendly play facilities available at each.
We hope you find the perfect family-friendly cottage with outdoor play facilities for your family.