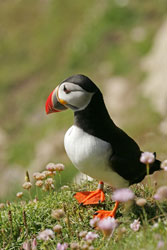 Scotland offers Brits a large natural swathe of countryside where deer still roam in the wild and nature thrives in the hills and glens.
Take the family to Scotland for a nature holiday and you won't be disappointed.
Armed with binoculars you can spot eagles and birds of prey, herds of deer, red squirrels, wild cats and host of other wildlife.
Scotland's coastline also offers the bonus of beaches for children to forage for small sea creatures or to run and around and enjoy the sand and waves. Colourful characters like the puffin above can be spotted during in May, or go to the north of Scotland and the Moray Firth for dolphins, whales and seals.
It's a wonderful opportunity to learn about eco systems and habitats on our own doorstep in Britain.
Find a log cabin or holiday cottage to rent for your stay and investigate the wildlife in your chosen part of Scotland. All self catering accommodation will be comfortable and of a good quality providing a real 'home from home'. See a selection of holiday cottages below.