France's Loire valley is mostly a summer destination for self catering holidays. If you are looking to explore the Loire valley you may want to find a self catering gite or may prefer to stay in one of the towns and instead stay in a self catering apartment. Do remember to ask any questions you have of the owner or agency before making a booking.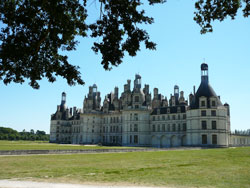 The Loire Valley is known in France as Pays de la Loire. The Loire valley is in the North West of France. It is best to travel around the Loire valley by car to get the best possible flexibility and to gain the most freedom when it comes to exploring the area.
What to do in the Loire Valley
Chateaux viewing
The Loire valley is famous for being home to many a chateau. Some of these chateaux are extremely large and many have a magical feel. Enjoy walking around enchanting gardens and spotting fish in the moats around some of these castles. There are a good number of chateaux in the Loire valley so your only challenge may be deciding which to see.

Some of the most famous castles in the Loire valley include:

Chambord is probably the most famous castle in the Loire valley. Chambord is a chateau on a grand scale and is impressive to say the least.

Chateau Amboise is well worth a visit. The town of Amboise is charming and when you climb to the gardens within the castle you may feel as if you are in another world.

Chateau de Chenonceau is perhaps the most charming of the castles in the Loire valley. Built over a river, this chateau has a particular charm.

In summer time some of these chateaux host son et lumiere shows which are to be recommended for an interesting evening of entertainment. See the chateaux' own websites for details.

Don't miss the chance to visit some of the smaller chateaux also. With some of the smaller chateaux you miss the long queues and may even be lucky enough to be shown around the chateau by the owner.
Wine tasting
There are a number of vineyards in the Loire valley. It is a lovely experience driving down country lanes to these vineyards and on a good sunny day you should get plenty of opportunities for taking photos. Some of the vineyards are more geared up for tourists and wine tasting sessions than others so do your research so you know what to expect. Having said that, although some of the smaller vineyards are not geared up for catering for tourist wine tasting sessions many do still sell absolutely divine wine.

One thing is for sure, the Loire valley is an absolutely delightful part of France to visit on a self catering holiday. The Loire valley will particularly appeal to those who love French chateaux and to those who enjoy good French wine.