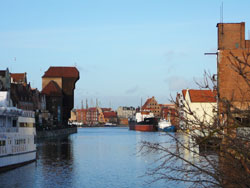 Gdansk is a Polish city in the north of Poland and benefits from a coastal location. The rise of cheap flights within Europe has meant that cities like Gdansk have become more and more accessible for self catering city breaks over recent years. Gdansk is a colourful city with grand beautiful buildings. It has incredible splendour and a wonderful large city square. The architectural style has strong Germanic influences. On first glance many of the beautiful town houses and other buildings in the city centre appear to be historical and old. A closer look at some of these buildings though reveals that many are in fact not that old. During the second world war many of the buildings in Gdansk city centre were essentially obliterated and bombed to rubble. After the war, the buildings were painstakingly rebuilt and Gdansk has now returned to her former glory. The beauty of Gdansk today is simply outstanding. Gdansk is a veritable Phoenix from the flames.

The outskirts of Gdansk can be somewhat industrial but the city centre is an absolute delight. Many Germans like to visit Gdansk. Gdansk has strong Germanic ties as the city was part of Prussia during the 1800s and was previously known by its German name of Danzig. Gdansk as it is now known, is well worth a visit whether you are from the UK, Germany or elsewhere in Europe.

Gdansk is a great place to enjoy sitting out for a coffee in the main square or dining at one of the many restaurants in the city. There are even riverside restaurants where you can enjoy river views. Or enjoy a spot of shopping. If you love amber jewellery then you should truly enjoy Gdank's shopping experience. There is practically a whole street in Gdansk jam packed with jewellery shops selling amber and other jewellery.

One of the most appealing parts of Gdansk has to be the quayside on the banks of the river Vistula. There are a number of interesting museums around this part of town where you can learn more about the maritime history of Gdansk.

Gdansk is a city with a very arty vibe. Art events and festivals take place throughout the year and Gdansk, like may places in Poland has an active community of artists.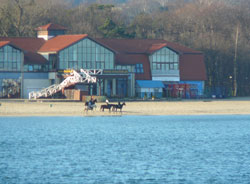 A short drive away from Gdansk are the seaside resorts of Sopot and Gdynia where many Poles head for their summer holidays. Whether you opt to stay in Gdansk itself for a self catering city break or prefer to stay in nearby Sopot or Gdynia will depend on your own preferences. Wherever you opt to stay we trust that you will enjoy exploring all that Gdansk and the surrounding area has to offer.
Other beautiful cities in Poland include Krakow and Wroclaw.