Wroclaw is a city in the South West of Poland. Less well known than Polish cities such as Krakow and Gdansk, Wroclaw is a little known gem for a self catering holiday. If you love café society you should adore Wroclaw. The architecture in the centre of Wroclaw is simply charming. With a substantial square and many historical buildings along with restaurants and cafes, central Wroclaw is a great place to spend some time. Stop off for a cappuccino or a glass of wine and watch the world go by. The colourful buildings around the square are simply picture perfect and in many ways the city's architecture seems more Germanic than Polish which is borne out in the city's history. Wroclaw was previously under German rule for hundreds of years from the 1700s and was part of Prussia. The German name that Wroclaw was known by was Breslau.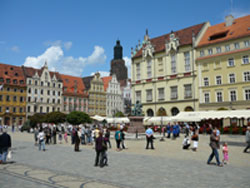 Wroclaw is described by some Poles as the Venice of Poland but this isn't really an accurate description. Wroclaw as a city benefits from the river Odra which flows through the city and has an interesting 'island' within the city but Wroclaw shares little in common with Venice. Wroclaw is beautiful but very different to Venice. Wroclaw feels far more Polish or Germanic than Italian and there are no gondolas!

There are boats though and you can take a boat trip in Wroclaw to see the city. A walk across the lovers bridge to the 'island' is also a must do. The lovers bridge is worth a mention in itself. At this bridge, young lovers secure padlocks with their initials in declaration of their love. You may even spot some young couples enjoying this special tradition. You then cross across in to the 'island' where you can find the cathedral and some charming tree lined streets with a distinctly European feel.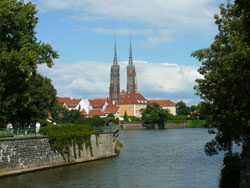 If you adore history, beautiful architecture, good food and wine, then do consider Wroclaw for a self catering city break. Self catering accommodation in Wroclaw, as with many cities, is most typically in self catering apartments. Wroclaw is not an obvious city break choice but is well worth a visit and is a great option for a short break.