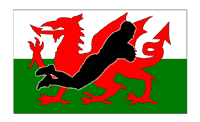 Wales, the land of the red dragon, rugby, mountains of Snowdonia, mass Welsh choirs, culture, regional cuisine, and some of the loveliest beaches in Great Britain.
You will find superb scenery in Wales, remote places with few people, and lots of wildlife. It's a relatively small country, easy to drive across, wonderful to photograph, and easily accessible from many parts of England.
Find self-catering holiday cottages in Wales for attractive good quality accommodation
National parks: Brecon Beacons and Snowdonia, for acres of moor and uplands for walking and climbing.
Beautiful spots to visit for holidays or tour in Wales:
Holiday cottages in Wales for self-catering holidays: