The increase in Brits and others having self catering villas in Turkey for private holiday homes and to rent out has made it easier to find homely self catering accommodation in Turkey. Do book early though, self catering villas tend to get booked up well in advance.
Scroll down the page to find villas to rent in Turkey.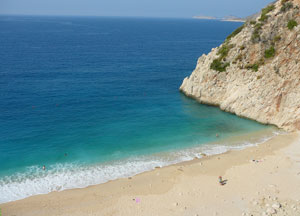 Nestling several tourist attractions, Turkey attracts travellers throughout the year. The Blue Mosque, Hagia Sophia, Selimiye Mosque, Fatih Cami, Eyup Sultan, Sumela Monestery, Church of Mary and the New Mosque are some of the jewels of Turkey. Turkey is home to several architectural places of interest such as the Dolmabahce Palace, Topkapi Palace, Ishak Pasha Palace, Maiden Tower, Miniaturk and Kizkalesi.

There are a number of different historical places to visit like Gallipoli, Ephesus, Pamukkale, Cappadocia, Didyma, Alacahoyuk, Aphrodisias, Troy and Catalhoyuk, which offer glimpses into the past of the country. Besides, it is also possible to visit Mount Nemrut, Agri, Erciyes, Palandoken, Uludag and Kartalkaya, among other attractions. There are endless activities that tourists can try in Turkey, including ballooning, diving, paragliding, rafting, skydiving, yachting and winter sports.

From picturesque landscape to architectural marvels, Turkey ranks high on the favourite list of many tourists. Travellers visiting Turkey may prefer to opt for self catering villas and villa holidays rather than traditional hotel stays. Villas often offer a home from home feel and very often more flexibility and privacy than can be found at a hotel.
Villas to rent in Turkey for self catering holidays in the sun. Turkey is one of the best holiday destinations regarding food, it has superb cuisine. Most people go on holiday to Turkey for the beaches although the mountainous interior, culture and history also have a lot to offer.
Click to find out more about villa stays in Italy, Spain, the Carribean and the Canary Isles.