Countrycottagesonline.Net offers travellers a choice of good quality self-catering holidays in the UK, Ireland and Overseas.

MENU
SEARCH
Hungary Holiday Rentals
Counties in Hungary
> See self-catering properties in Hungary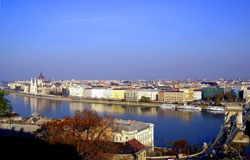 Looking for holiday rentals in Hungary? Whether you are searching for a holiday lodge, a holiday house or an apartment, Countrycottagesonlinet.net can help you find a great place to stay.

What Does Hungary Offer for Self-Catering Holidays?
Hungary is an amazing central European country and yet many of us have little knowledge of its stunning landscapes, history or culture. Over the years, Hungary's capital, Budapest, has become a top ten short break destination, partly because of the good value it offers in cheap accommodation and eating out.
At one time the power and influence of the Austro-Hungarian Empire infiltrated many of its neighbours. It brought paprika and Hungarian goulash to European menus, a similar poppy seed cake is made in Poland, Slovakia and Hungary. Poppies and sunflowers are grown for their seeds and are a thing of beauty during the summer. Fruit farming is extensive in the fertile plains. Hungary's plum brandy is a popular potent export and wines are also produced.
The country is largely rural with numerous small farms. The River Danube flows for 417km of its length through the Hungarian countryside. The M1, M3, M5, M61 routes enable crossing the country quickly and easy for exploring Hungary. To the north are wooded mountain areas reaching a height of 938m. These teem with wildlife and reward hikers with remarkable scenery and wildlife. This region is home to three national parks, the Aggtelek, Bukk and Danube-Ipoly national parks.
Almost a fifth of Hungary is covered by woodland which provides a great deal of shelter for wild animals, including many rare and endangered species. The land is generally natural and unpolluted which favours various habitats and promotes wild flowers, and in turn butterflies and insects. It is a very good destination for bird watching, nature holidays or mountain biking. For anyone who loves nature, Hungary is a recommended destination.
Lake Balaton is the largest lake in Hungary and a well-known recreational area for tourists. There is boating, fishing and water sports. Or, perhaps for a taste of the real Hungary, visit Mor, a small town in a pretty valley between Vértes Mountains and Bakony which has a reputation for good wines. It is just an hour's drive from Budapest and a good inexpensive place to stay when visiting Hungary. Many of the local festivals are built around wine production and there is a wine museum for tourists to visit. The Mor Wine weekend is held on the first weekend of October over a three day period, there are happy Sundays every evening from June until August where people make merry with wine, good food and Hungarian music. Another period of feasting is during Saint Gregory's week at the end of April.
For tourists, there is plenty to see of interest in Hungary. Nothing is nicer than exploring the mountains and countryside with a few days sightseeing in Budapest. The Caves of Aggtelek Karst on the Hungarian and Slovakian border are a world heritage site and worth a visit.
Click for more information
Self catering holidays in Hungary
Sorry, we do not currently have any properties advertised for Hungary, please use the menu at the top of the page to find more self-catering holiday accommodation.
Copyright © 2002 - 2017 Countrycottagesonline.net - All Rights Reserved