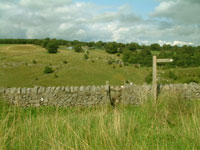 The Peak District is synonymous with Derbyshire.
However, the first and one of the most popular of Britain's National Parks overspills into the adjacent counties of Yorkshire, Cheshire and Staffordshire.
Ask tourists what the Peak District looks like and they will describe green hillsides with rocky outcrops where sheep wander at will, fields divided by dry stone walls, meadows with tumbling brooks, lakes, reservoirs, waterfalls, and limestone caves - some of which are large enough to sail a boat through. Stone is the star performer in the Peak District - in white limestone, grit and shale and is used in building rural cottages, bridges, walls and tiown houses.
There is something for people of all ages in the Peak District. Nature, history, legend and commercialism combine to provide an outdoor playground ideal for walking, climbing, cycling, hang gliding, orienteering and just for a pleasurable ramble or picnic.
A list of self-catering cottages in the Peak District is displayed below. Book a cottage for a comfortable stay to be on the doorsetp and ready to discover the moors and dales of this beautiful wilderness in the Midlands.
More cottages in the Peak District and nearby can be found by using the Cottage Search facility on the left.