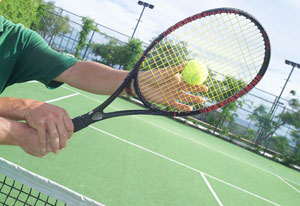 If you love to play tennis or enjoy keeping active on holiday you may like the idea of renting a cottage with its own tennis court. Most properties with their own tennis court are larger properties such as mansions or country houses. There are also a few smaller cottages that have their own tennis court or occasionally exclusive use of the cottage owner's own tennis court.

Some properties have hard ground tennis courts for use at any time of year whereas others have grass tennis courts that can only be used in summer time. If you are unclear or have questions get in touch with owners or agencies who can advise you about the facilities on offer. If you are happy to rent a cottage with shared use of a tennis court, click our link for cottages with a shared tennis court,

Shared tennis courts are mostly found at cottage complexes where there may also be other leisure facilities on offer.
Click the images shown below for more details of each self-catering cottage with a tennis court.