Book a bungalow around Morecambe Bay and enjoy a good holiday
With an area that's prized for sensational sea views, beautiful parkland and picture-perfect towns, it's no surprise that Morecambe Bay located in the beating heart of Lancashire has been preciously labelled Nature's Amphitheatre. Known nearly as much for its legendary stars of screen as it is for its overriding peace and tranquillity, it's the perfect place for you and your loved ones to rent a holiday bungalow.
It's not just the miles and miles of stunning coastline that you will enjoy on your travels, you and your family will also relish the high adrenaline outdoor activities on offer. The best way for thrill seekers to prepare for adrenaline fuelled amenities such as sailing, mountain biking and horse-riding? Tucking into a homemade breakfast that's made in the caring hands of your fully furnished kitchen and enjoyed on the decked terrace in your spacious lush green garden. And where better to relax and unwind post amazing adventures than cuddling up to the ones you love next to the electric fire in your cosy living room? Even more special when you experience the mind-blowing sunrises and sunsets through the double-glazing windows of your en suite bedroom.
Follow Eric Morecambe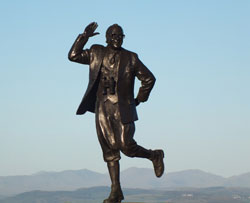 The bay's favourite son Eric Morecambe once famously sang 'Bring Me Sunshine' and by strolling around this stunning area, you won't be able to resist grinning from ear to ear with a special skip in your step. With several scenic walks and cycle routes providing you with once in a lifetime wildlife experiences as well as those all-important 10,000 steps, it's the ideal way to explore this sensational part of the world. Looking for an award-winning part of Morecambe Bay? Why not check out the recently awarded Area of Outstanding Natural Beauty at Arnside and Silverdale?
With everything for the whole family catered for, Morecambe Bay is the perfect location in which to rent a holiday bungalow this year.