The small island of Malta in the Mediterranean is a rare European treasure. Much beloved by Brits, it's association and history with Britain goes back to the Knights of St John in the 15th Century. Later, around 1800 the British Navy led by Nelson drove out the invading French. The Maltese people were awarded the George Cross for their extreme bravery after World War II - the George Cross is now integrated into the top left of the red and white Maltese flag. Any British visitor to Malta will encounter an affection for the British that is not found in any other country in the world. Many British landmarks such as Buckingham Palace have an equivalent in Malta. The Maltese all learn English at school which makes Malta an easy country for Brits to visit. There is a large ex-pat community attracted by the friendliness of the people and sunny climate.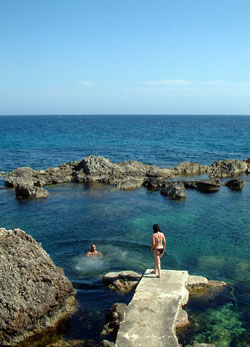 Malta is one countries abroad that the British can visit and feel quite at home. The shops sell British branded goods; it's more like traditional England of a few decades ago than England today. You can find line dancing, bingo, racing and a variety of traditional British entertainments in addition to beach holidays.
Culture vultures should include a trip to Malta on their 'Must Visit' list. The jewels in Malta's crown are the historical monuments. The heritage of the medieval city of Mdina - the silent city, the fortified city and harbour of Valletta, the ruined remains from the Ottoman empire and the Megalithic Temples. St Paul the Apostle landed at St Pauls' Bay in Malta in 60 AD bringing Christianity to the islands. The population is predominantly Roman Catholic and boasts a high number of beautiful churches and a strong Christian tradition.
Traditional crafts practiced in Malta include glass blowing and art glass, lace making, intricate silver filigree jewellery and pottery. Many of the products can be purchased in art and craft shops and markets.
For all that, the 7 Maltese islands of Malta, Gozo, Comino and smaller islands are typically Mediterranean in character; prickly pear, dill and thyme grow wild on roadside verges. Spring is a time of rampant wild flowers and colour. In summer the vivid hyacinth blue flowering jacaranda trees are simply stunning.
The tourist developments tend to be clustered around the north of the island of Malta in the areas of Mellieha Bay and St Paul's Bay, but because it's such a small island, nowhere in Malta is very far. Rent a self-catering apartment, villa or farmhouse for a magical and relaxing holiday on an island that is truly 'home from home'.
Related Malta self-catering holiday pages: