Self-Catering Cycling Holidays in the UK and Abroad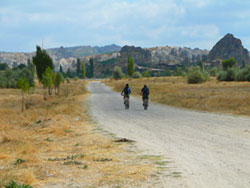 If you love cycling and enjoy discovering the great British countryside by bike you may well want to take a self catering cycling holiday in the UK or Ireland. Cycling can be great when it comes to the high that can be achieved with high adrenaline sports and is great exercise too. For some, there is no better way to sightsee and explore Britain than on a bike.

Cycling Holidays near Traffic-Free Cycle Routes.
Lots of cyclists prefer to keep off-road and bike along safe traffic-free paths. if you prefer cycling off-road, read our tips on the best places for traffic-free cycling holidays in the UK.
Other Places in the UK to Get On Your Bike on Holiday
Counties in the UK with some beautiful countryside which are not too hilly to explore on two-wheels include:

- Essex
- Suffolk
- Norfolk
- Cambridgeshire
- Lincolnshire
- Nottinghamshire
Get inspired with our list of Top 5 best places for cycling holidays in England.
Best Areas for Cycling Holidays in the UK and Ireland
It may seem like an obvious point but cycling should be enjoyable and it's important to plan the level of cycling that you are comfortable with. Although a challenge can be good at times, spending night and night with aching muscles on holiday isn't generally enjoyable and is best avoided. If you don't generally cycle a lot up hills for example, trips to notoriously hilly regions like the Lake District or Northumberland are not to be recommended. Better perhaps to stick to the more flat countryside of Essex or the gently rolling countryside of Suffolk or Norfolk for example.

Britain's national parks and areas of outstanding natural beauty are obvious places to enjoy sightseeing, great natural scenery and wildlife spotting but do bear in mind that a number of these areas are hilly and some even mountainous. Do check out what the terrain of your chosen area is like before booking a self catering cycling holiday. Some areas such as the New Forest in Hampshire are hilly in places but also have plenty of flatter areas where you can enjoy gently cycling. Whereas, areas such as Snowdonia in Wales are known for their mountainous terrain. Always do your research before booking a self catering holiday to ensure that you choose the right self catering holiday destination for you to match your experience of cycling and level of fitness.
Quiter counties may be appealing when it comes to cycling. Cycle paths in Britain are by no means extensive and when it comes to cycling on roads, some fnd quiter roads more reassuring.

Sustrans is a useful resource that provides information on cycle paths throughout the UK, see their National Cycle Network for more details. Find quiet country lanes or traffic free routes and paths suitable for cycling.
Cycling Abroad
As within the UK, there are certain places abroad which are better for gentle relaxed cycling than others.
Loire Valley in France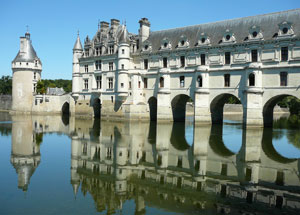 Enjoying a self catering holiday in the Loire Valley in France could be ideal for those who want to explore this picturesque part of France on a cycling holiday. What could be better than stopping off at various Chateaux and cafes mixed in with a bit of cycling?

In contrast to this, Madeira is an island not particularly suited for cyclists. High peaks, blind bends and steep inclines on Madeira conspire against safe or easy cycling.

As with self catering cycling holidays in the UK, do your research and plan where to go based on an area's attractions but also bear in mind how practical cycling in the area would be.
Self Catering for Cyclists
The type of self catering accommodation you opt for will depend of course on your preferences and budget. If you are happy to combine driving with a bit of cycling you may want to stay centrally in your chosen area and then use a combination of the car and your bike to explore. Whereas if you want a purist's cycling holiday you will probably instead want to book accommodation near good cycling paths or lanes where you can cycle from place to place.
To relax after cycling during the day you will undoubtedly want to find a cottage with a comfy bed. To aid relaxation even more you may though want to rent a self catering cottage with a hot tub so you can lay back, relax and let the bubbles do the work.
Being an outdoor sport, cycling in the UK and Ireland is best suited to the warmer summer months and spring. When cycling remember that it is important to dress appropriately and ensure you have waterproofs to see you through any showers. There are various type of cycling breaks. Some people enjoy gentle cycling on country lanes whereas others enjoy cross country mountain biking. Whatever type of biking you enjoy do take care of your health and safety, remember to carry water with you when cycling and always wear a well fitting bicycle helmet.

When choosing whereabouts to go on a self catering cycling holiday, it's important to decide which area appeals to you. Perhaps you are considering a self catering cottage stay in one of Britain's National Parks or one of the many areas of outstanding natural beauty? Wherever you have in mind, before booking your stay, if you love to cycle you will want to find out what opportunities there are for cycling in your preferred area.