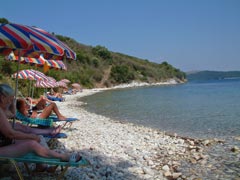 Greece is a country that people fall in love with and many decide to retire or live there following a holiday.
Greece is a country of many parts: mainland Greece where you will find the Acropolis in the capital city Athens, the beautiful Peloponnesian split from the mainland by the Corinthian Canal and numerous islands, each with their own character such as the largest island of Crete, Mykonos, Zante, Rhodes, and green and friendly Corfu.
Greece offers a variety of holidays: classical Greece with its ancient ruins and Greek gods, beach holidays at a multitude of resorts, nature and discovery holidays throughout its regions, skiing and hiking in its mountains. The sun can almost be guaranteed to shine throughout the summer months, spring brings colourful drifts of wild flowers and oranges and lemons fruit in the winter.
Holiday accommodation in villas, houses and rooms to rent in Greece: