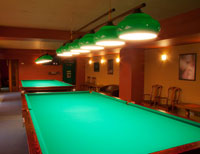 Looking for a cottage with a snooker room where you can enjoy a game of snooker? Snooker can be a very pleasant way to relax and while away a couple of hours with friends on holiday. The following holiday cottages all have a snooker table for your pleasure.
If you are a bit of an expert when it comes to snooker you may opt to rent a cottage with a full size snooker table so that you can seriously play your game and pot those all important red and black balls.
If you're looking for self catering with a games room, click for cottages with games rooms for an excellent range of cottages and lots of choice.
Some cottages will have special snooker rooms whereas others will have a snooker table as part of a larger games room. Similarly some cottages have a private snooker room or games room whereas others offer shared facilities. All can offer lots of fun!
Staying in a cottage with a snooker table can simply be a god send for days when it is raining or for fun nights in. Bring your own cue if you are an expert and use your own special lucky cue or use those on offer at the cottage. One thing is for sure, lots of fun is guaranteed when enjoying a holiday at a cottage with a snooker table.